RiderTownUsa.com – February 20th, 2017
Gentry Academy, based out of Arden Hills, Minnesota won the 1st annual RoughRiders Challenge Series U13 Division this past weekend at the Cedar Rapids Ice Arena. Gentry defeated the Madison Capitols in the Championship game Sunday by a 5-2 score. The Galaxy got goals from four different skaters, getting a pair from Chaz Lucious. Jake Martin scored the eventual game winner with 38 seconds to go in the 1st period, giving Gentry a 3-0 lead the Capitols could not overcome. Gentry is coached by a pair for former USHL players in Billy Hengen (Lincoln Stars 2000-2002) and Joe Jensen (Sioux Falls Stampede 2000-2002).
Twelve teams from the 2003 birth year participated from all over the midwest and west coast in the 1st annual event held in Cedar Rapids. 31 games starting Friday morning and ending with Sunday afternoons Championship took place over the weekend. The host team, and Cedar Rapids RoughRiders affiliate, the Rocky Mountain RoughRiders finished 5th overall in the event, going 3-1-1. Final standings for the event are shown below.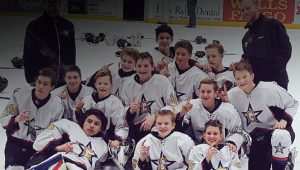 1st – Gentry Academy (6-0)
2nd – Madison Capitols (4-2)
3rd – Milwaukee Jr. Admirals (4-1)
4th – Team Illinois (3-1-1)
5th – Rocky Mountain RoughRiders (3-1-1)
6th – Omaha AAA Hockey Club (3-2)
7th – Northern Express (2-3)
8th – San Diego Gulls (1-3-1)
9th – Sioux Falls Jr. Stampede (0-2-3)
10th – Colorado Evolution (1-4)
11th – Iowa Wild (0-4-1)
12th – Arizona Bobcats (0-4-1)