We begin with a solid foundation in traditional academics by offering the four core subjects of math, language arts, science and social studies. But, simply teaching the curriculum of a traditional school is not enough.
Gentry Academy is designed for students who seek to be high-achieving leaders in life. We nurture this aspiration for leadership through our hallmark leadership and life skills program. This program offers a foundation of leadership through daily training lessons combined with a flexible schedule in order to focus on the skill sets in which students seek to improve. Allowing students to focus on their desired disciplines and passions in a flexible environment can be achieved through our four schools focused on academics, arts, physical education, and internships using our W.I.N. (What I Need) time learning model.
At Gentry Academy, we believe building a successful future should never wait until tomorrow. Our middle school program sets students on the right path for high school. The high school experience imparts a dynamic learning environment for entrepreneurial-minded students to learn real-world skills. It provides students with purpose and direction, which is an essential philosophy to build leaders with the skills to excel in college and their career.
Gentry Academy follows the Minnesota K-12 State Standards for Learning. The rigorous curriculum emphasizes investigation and independent thinking while providing a solid knowledge base in the academic disciplines. The instructional process is supported by regularly scheduled assessments that measure student progress to ensure concept mastery and identify areas for review.
---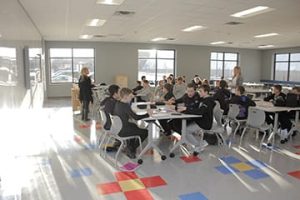 Our students have access to a state-of-the-art facility constructed on the TCO Sports Garden Campus, in Vadnais Heights, Minnesota. Our academics encompass an active learning campus taught in a traditional classroom setting. We offer over 50,000 square feet of interactive classrooms with smart boards and demountable white board walls. Students also enjoy a media center equipped with computer stations, areas for brainstorming, and independent learning.
Benefits
Experienced, licensed teachers
Smaller class sizes
Flexible schedule for students to direct individual learning through desired disciplines and passions
Traditional classroom with comfortable and interactive learning environment
Staff invested in the education of students
Accreditation
Gentry Academy is an accredited school under the stringent Standards for Quality Learning of Cognia, the largest community of education professionals in the world, and the organization that provides accreditation to many of the top school in Minnesota.