There are two major transitions in a young person's life that traditional schools don't adequately prepare them for: going to college and starting a career.
Today's education system may teach content and help students pass classes, but it does little to equip students with a real understanding of how the path through high school and college will eventually lead them to a fulfilling and profitable career.
The leadership curriculum at Gentry Academy is specifically designed to give students a view into the real world that awaits them.
Not only does Gentry Academy offer personality and vocational aptitude counseling to provide general career guidance, but students will also have the opportunity to create a business of their own, focus on technology or business topics, and experience firsthand what the professional world looks like.
In today's competitive business environment, a college education no longer guarantees a good job. The high school and college experiences need to impart real-world skills, and provide students with purpose and direction.
As a Gentry Academy alumnus, your college student will have paid, professional internships available to them through the Gentry Academy College and Corporate Network Center. Additionally, depending on their area of study, full-time employment can be arranged for them by the time they graduate.
Leaders don't move forward without a purpose. They create a plan and execute it. High school, college and career are no exception.
College Counseling
The mission of our college counseling department is to facilitate the search and application process for secondary education. The process is set within the larger context of personal growth, seeking to integrate students' skill sets and educational backgrounds resulting in fulfilling careers.
Students receive the tools to get into the college or university that best meets their needs while also learning valuable leadership skills.
Leaders don't move forward without a purpose. When we work with your student, we begin with the future in mind, giving careful consideration to which industries and careers are a good fit and represent an attractive opportunity. From there, schools and programs can be identified that will not only provide an excellent college experience, but also prepare them for a lifetime of leadership and success.
This process officially begins in ninth grade with specific benchmarks throughout each year of high school. The tools and skills gained throughout this process will ensure student success in college and beyond.
About our College Counseling Department
Our college counseling department is tasked with assisting students, and their families, navigate the transition from high school to college – a process that starts long before college applications are sent in.
College Prep Sessions
Juniors and seniors have the opportunity to attend special sessions to prepare them for all things secondary:
College search
College visits
College admission testing
College application
Interviews
Essay writing
Resume writing
Scholarships
Financial aid
College Admissions Representatives and Visits
Representatives from highly-ranked colleges and universities will visit Gentry Academy throughout the academic year. Our staff helps facilitate college visits for our students and their families.
College Admission Testing
An important piece of the college admissions process is taking the ACT or SAT. Our staff partners with experts in the field of test prep to ensure juniors are prepared to take the ACT or SAT in the spring of their junior year.
Prior to taking the ACT and SAT, Gentry Academy will provide PSAT experience with the PSAT or ACT test format and content, including the timed essay. PSAT scores are not sent to colleges; rather, the score reports contain customized information to prepare students for future tests. Moreover, PSAT scores may qualify a student for the National Merit Scholarship competition. All Gentry Academy students register and take the test during the school day.
While the vast majority of juniors will take the ACT or SAT more than once, the fall of senior year is the last opportunity for students to test before submitting their college applications. October and November are also the last opportunities for students to take or retake the SAT II subject tests.
---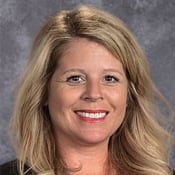 Heidi Larson
Licensed School Counselor
Heidi boasts an impressive background with over a decade of experience as a licensed school counselor. She earned her Bachelor of Arts in Psychology from Concordia University – St. Paul and her Master of Science in Education from the University of Wisconsin – River Falls.
Passionate about working with high school students, Heidi has extensive knowledge assisting students in exploring educational and post-secondary opportunities. She has developed solid NCAA programs and curriculum to prepare students and athletes educationally and mentally for their post-secondary options.
Heidi was also recognized as a Leadership in Educational Excellence recipient in 2016. She has served as a Student Council Advisor and Senior Class Advisor, and has assisted students to develop leadership skills and to be actively involved in their community through her role as an advisor.
When she is not working with students, giving back to the community is important to Heidi. She also enjoys working as a volunteer with her own children's athletic teams.