March 7, 2023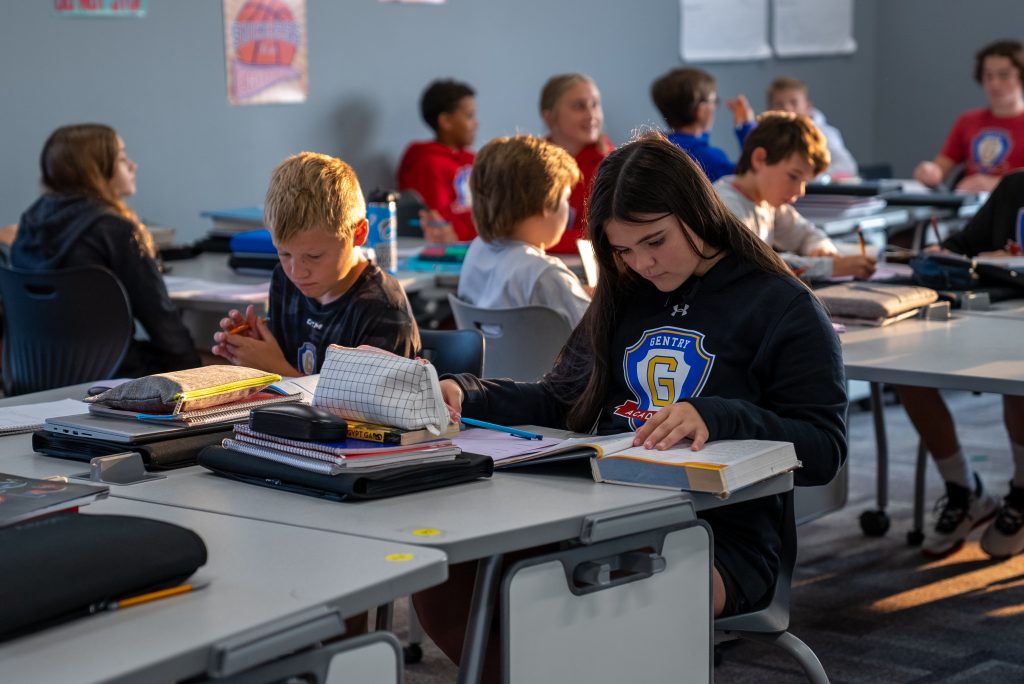 Gentry Academy is pleased to announce its' Semester One Honor Rolls for Middle and High School Students.
Semester One saw the most Gentry Academy students ever named to either the A or B Honor Rolls.
"We are so proud of our students. They do all of this by being strong leaders," said Jennifer Kurth, Director of Education. "We must also recognize our great teachers as well. It takes great teachers to have great students and at Gentry we have a staff dedicated to our students."
Furthering its' commitment to having students at the top of their game in and out of the classroom, Gentry Academy is proud to announce that its' State Championship Girls Hockey team had a cumulative GPA of 3.75 for semester one, and the boys' team finished with a GPA of 3.71.
"These results are the rule and not the exception," said Heidi Larson, Director of Admissions. "Academics is at the heart of our mission. We will always put academic success ahead of athletic success because we believe that great students make for great people who will succeed in anything they do."
Congratulations to all Gentry Academy Students on the Semester One Honor Roll:
Middle School – Semester One – A Honor Roll
Beck, Brooklyn Anderson, Jaxson Bjornlie, Jakob Cullen, Teagan Berg, Eva Beck, Hudson Bois, Braden Fatheree, Vaughn Brandenhoff, Zoey Boldt, Alexander Cullen, Reese Fitzhenry, Nolan Cook, Aiden Carney, Vincent Donohoo, Masen Giefer, Blake Cranston, Lucy Cullen, Weston Giefer, Grady Grisdale, Matthew DeLong, Jackson Demeny, Mykah Gust, Gavin Jarvis, Luca Donohoo, Rylen Dorff, Jackson Hermes, Alayna Jones, Keiran Donohue, Emilia Engstrom, Taylor Johnston, Jonah Larsen, Lucas Dunham, Sydney Gerding, William Kacures, Ella Lowe, Lauren Eveland, Hadley Gorskij, Victoria Langer, Blake Moore, Hope Harmon, Hunter Gray, Cashton Lenton, Dennis Mortensen, Thayne Hermes, Lydia Hicks, Will Scarrella, Jase Neill, Timothy Kieffer, Noah Hudson, Lauren Tompkins, Caden Nyembwe, Cozette Langer, Bristol Krueger, Persephone Ziegler, Benjamin Sarauer, Piper Mathiowetz, Kennedy Lecker, Leo Solinitzky, Haley Milich, Nora Lucius, Ava Moravec, Jackson Martens, Rowynn Murphy, Kieran Burke, Nelson Neill, Josephine O'Shea, Kevin Nethercut, Mabel Pearl, Lucas Neurer, Zoe Rankin, Crosby Retka, Harper Resop, Ryan Schwarze, Dalton Ryan, Owen Severson, Elisabeth Smith, Austin Thiam, Fatim Walsh, Isabella Valerius, Marlana
Middle School – Semester One – B Honor Roll
Anderson, Macksen Bailey, Isaiah Arneson, Easton Abdelaziz, Yasin Browning, Ellie Bjornlie, Lukas Bayer, Porter Anderson, Zoey Bustos, Cecilia Borene, Leyton Burdette, TR Baker, Madelyn Deering, Chase Burke, Landon Bustos, Desmond Calzada, Christopher Mattson, Bentley Fuller, Grady DeFeyter, Brandt Delmonico, Owen Nyembwe, Andre Girard, Johnny Hanrahan, Chase Holtzleicer, Jaeger Padilla, Brian Hendricks, Drew Henthorne, Callie Kauls, Jonah Parenteau, Nicolas Japor, Kolton Hudson, Leyton Lecker, Maxwell Parenteau, Vincent Johnson, Gabriella Johnson, Lilliana Long, Dylan Peterson, Brody Larsen, Landen Jurek, Carter Nelson, Andrew Rogers, Sloan Miller, James Koller, Molly Novotny, Austin Stickney, Logan Mueller, Matthew Lach, Andrew Rooney, Ryland Tupa, Logan Rinehart, Hudson Larson, Eva Ruotsinoja, Nathan Williams, Samadhi Skahan, Wyatt Larson, Max Salo, Logan Sullivan, Devon Lockman, Brody Spratt, Marcus Tompkins, Jillian Masloski, Blake Swanson, Kayla Unklesbay, Cole Mathiowitz, Chayce Verby, Nicholas Wick, Tyler Meier, Henry Wilke, Nathan Nyembwe, Malachi Williams, Maxwell Peltier, Quinn Zabrok, Brekken Reynolds, Layne Sinclair, Vincent Swierczek, Katherine Westlund, Owen Zachmann, Matthew
High School – Semester One – A Honor Roll
Davis, Ava Arneson, Addison Berg, Ella Anderson, Gabriel Demeny, Kiley Avelar, Riley Casey, Michael Bartizal, Rylee Engstrom, Charles Fairbanks, Brock Darsow, Paige Delmonico, Grace Hohn, Samantha Laming, Emma Deering, Lauren Gazdik, Jenessa Korba, Braden Miller, Zosia Ehnstrom, Ava Gazdik, JuliAnna Lach, Alexandra Nguyen, Isaac Eytcheson, Christopher Hammer, Brendon Mattson, Isabelle Nyembwe, Rayme Gordon, Kaiden Heger, Campbell Myers, Elsa Gorskij, Nicholas Jerylo, Anna O'Shea, Delaney Mortensen, Brielle Kurth, Carter Pettman, Anthony Munz, Isabella Myers, Greta Sinclair, Blake Myers, Analiese Reeves, Riley Sundgren, Ty Novotny, Lilian Sajevic, Caroline Zaruba, Finn O'Connor, Quinn Sarauer, Elisabeth Peltier, Cameron Shaw, Reese Peltier, Cole Wilsey, Emma Proulx, Haylee Zolezzi, Anthony Roberts, Kaitlin Sandberg, Tanner Weiss, Amelia Whiterabbit, Ryan Wilsey, Grace
High School – Semester One – B Honor Roll
Anderson, Beckett Betzold, Ryder Aanenson, Maiah Agerter, Rachel Bailey, Dakotah Bigwood, Jonathan Bailey, Elijah Anderson, Eva Blattman, Arry Brandenhoff, Isabel Garrity, Ciera Geyer, Tyler Garrity, Cameron Bultinck, Broderick Kelley, Liam Gray, Zachary Gerding, Grayson DeFeyter, Kyler Obrochta, Justin Hanrahan, Alexa Grose, Gavin Farrell, Luke Rooney, Easton Harvey, Cale Macoskey, Colby Fike, Colin Salscheider, Skylar Hyland, Nolan Miller, Emmett Gerard, Alexandra Simons, Tysen Johnson, Connor Proulx, Talen Gimble, Thor Stiller, Jaxon Laming, Zoe Reinhardt, Allison Gray, Haley Wetteland, Teagan Von Klinggraeff, Max Swierczek, Matthew Guille, Jacob Wickland, Beritt Wickland, Mack Hemme, Rylin Winge, Naomi Hunter, Shanley Jimenez, Maranalie Karlsson, Henrik Myronyuk, Ivan Reeves, Addison Sanchez, Shay Sanders, Wyatt Swanson, Kelle